Clayton Crain may have the appearance of a rockstar or a biker, but make no mistake-this young man has quickly earned a reputation as one of the leading American comic book artists. As an impressionable youth the world of comic illustration seemed to be the only career possibility worth pursuing. Crain, who was born in Oregon in 1975, had the drive, talent and insatiable curiosity required but he also needed the right opportunity.
His first forays in the comic world would be signed as 'Klayton Krain' but soon millions of impressed fans would discover that Clayton Crain by any name still creates amazing illustrations. Crain produced an initial short run of comics with the title 'Venom vs. Carnage' in which he was able to introduce the character 'Toxin' to fans around the world. After this launch the Oregon born artist would begin working with a number of other publishers including Acclaim, Image, Top Cow and Marvel. His very first professional appearance was with Acclaim in 1998 when he worked on issues 16-20 of 'Shadowman'. In 1998 Crain also was on the creative team for Image comics where he helped produce the pages of (#16-20) 'Curse of the Spawn'. Crain's digital artistry can also be seen in the pages of other Image comics, including 'Kiss Psycho Circus' 'Darkness' and 'Sam Twitch'.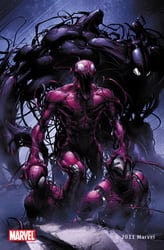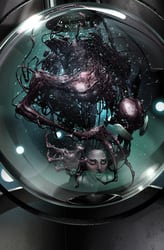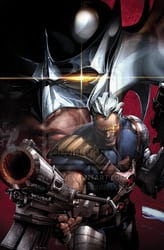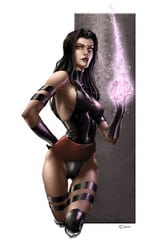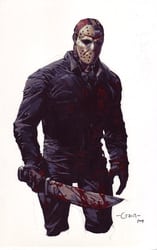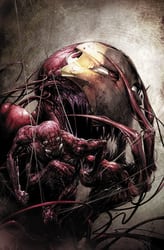 Digital art is the only media used by this talented artist and all of his drawings are generated with the use of computer software. His digital drawings and paintings are dazzling, both in color and composition. Some experts have stated that the illustrations Clayton Crain produces are a perfect merge of Da Vinci's careful eye for detail and a tattoo artist's desire to infuse bold colors and lines into one wonderful image. The new digital art of Clayton Crain should have first been seen in 2004 if Marvel had published the prototype Ant Man comics. However the computerized art form that is Crain's signature style made it to the bookstores when it was featured on the cover of Venom no.14 'Venom/Carnage' would become the first comics to use this high-tech illustrative technique throughout the pages of issues 1-4.
More recently Crain has brought his digital art design to the pages of 'X-Force'. Fans can also enjoy his computerized drawings in 'Ghost Rider' (mini-series 1-6), Iimpure'( a self-published title), 'Marvel knights (cover of #4),and in select issues of the second volume of 'The Sensational Spiderman'. Today this young artist's talents are in high demand and new comic illustrators are eager to explore the world of digital art that Crain has introduced.
Check Out Clayton Crain's Stuff Below:
Clayton Crain's DeviantArt | Clayton Crain's Official Website | Clayton Crain At Comic Art Community
Average rating:
0 reviews