---
It is essential to know what you are working with when doing comic art.So before anything else, let's look through some of drawing tools, material and also get the best setting for you to begin your comic art.
---
| | |
| --- | --- |
| Find out the difference between traditional and digital drawing and what you need to get started drawing digitally. | |
---
In this tutorial we show you how to draw basic figure drawing such as -
---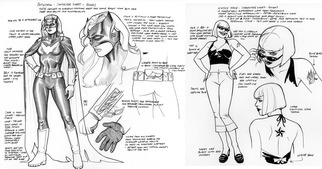 Character creation is one of the most important part of making a comic and though some might say it is a difficult process, it is however a lot easier than you think.
---
There are a lot of factor that needs to be considered when drawing clothing fabrics and armor, that includes folds, wrinkles, positioning and many more.Get to know the details about it here.

Only partially complete, still working on it ( in progress)
---
Knowing how to draw perspective is important in most art, and in comics it is no exception.Every comic book uses perspective in a lot of ways and it is good idea to know the basics of it.

Fundamentals

Single Point Perspective

Two Point Perspective

Three Point Perspective
---
Basic Expressions

Find out the basics of several facial expressions that is fairly common in comic and learn how a few tweak an change one expression to another.

Click Here

-Anger
-Fear
-Happiness
-Worried
-Surprised
---