Who or What Are They?
Talented? or Just Simply Awesome?

I
n this page, we dedicate it to professional comic artist that has truly inspired us with their work in the industry.Also include a short bio and videos to show you how they demonstrate their professional talent.To us here at
Creative Comic Art
, these talented individuals are nothing short of awesome!
---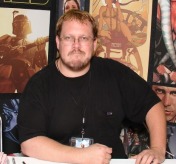 Adam Hughes is no stranger to fame as one of the most sought after comic artist who has spent several years with legendary publishing houses such as Marvel, DC and Dark House Comics. Well known for his pin up style depiction of the femme fatales in his work, Adam's creativity is certainly not restricted to bodacious women with improbable physiques and even more improbable attires.

However, Hughes does not shy away from his unabashed appreciation of the female form; his style can be defined as pin up art with a healthy dose of Art Nouveau added for good measure. But the sheer perfection that fans have been associating with the artist's work did not come easy.

Click Here For Videos And More!!
---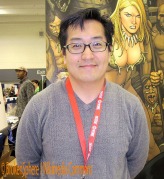 Frank Cho is a comic artist. He is best known for his mature style of art that has led to many issues in his professional career. His disdain for censorship led him into a whole new venue and caused him to work hard to achieve his goals. Despite this setback he has managed to make a he impact on the comic world with his amazing skills and point of view.

Frank Cho was born in 1971 in Seoul, Korea. He came to the United States in 1977 and was raised in Maryland. He attended Prince George's Community College. He received a scholarship to Maryland Institute College of Art in Baltimore, but he did not take it. He did not like the school's academic qualities.

Instead he went to the University of Maryland School of Nursing and graduated with a Bachelor's in 1996. He received no formal training in art.

Click Here For Videos And More!!
---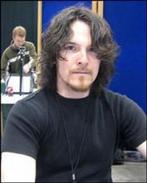 Clayton Crain may have the appearance of a rockstar or a biker, but make no mistake-this young man has quickly earned a reputation as one of the leading American comic book artists. As an impressionable youth the world of comic illustration seemed to be the only career possibility worth pursuing.

Crain, who was born in Oregon in 1975, had the drive, talent and insatiable curiosity required but he also needed the right opportunity. His first forays in the comic world would be signed as 'Klayton Krain' but soon millions of impressed fans would discover that Clayton Crain by any name still creates amazing illustrations.



Click Here For More

!!

---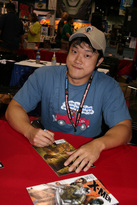 Michael Choi (better known) as Mike Choi has quickly risen to become a great standout in the world of comics and sequential art. While there have been many artists that have come and gone delivering a competent job, Choi's work has risen far above industry standards.

This is why he has been selected to work on highly popular titles such as Witchblade, X-Force, and X-Men among others. His work has mostly appeared in titles produced by Marvel and Top Cow and will likely appear in titles produced by other publishers as his work continues to grow in popularity.

Michael was born in Chicago where he spent his very early childhood years. He would later move out of Chicago and eventually to Arizona. A fan of comic books his entire life, Mike Choi would eventually find his way to work in the industry. He has worked as both an inker and a colorist, but he is most well known for his penciling of both interiors and covers.



Click Here For More !!



More Comic Talents ...Coming Soon.

---