Many people of all ages are very fascinated with comics compared to other printed media. Kids and teenagers will immediately be impressed with all the illustrations that literally bring the story and its characters to life. Comic book artists that have years of experience seem to have no problems in rolling out future publications and the quality of these comic books show. One advantage that many of these artists have is the use of computers to come up with digital versions of comics. These comics can not only be printed with amazing detail but also posted online. This is probably a good path for you to start, but you risk skipping significant comic procedures like the inking comic process.
Comics have been around far longer than graphics applications so it certainly helps to know how to make your own comics the traditional way. The process in making comic book illustrations actually has several phases but do not let it intimidate you. Once you learn the ropes in creating comic books, you should have an advantage of bringing out your creativity in digital or using the marker and that gives you the most flexibility. First, you will start with the sketching and you can quickly do that with a pencil and paper. With these two basic materials, you can practice different designs and make erasures if necessary. Your creativity goes to work already and once you are done, you can proceed to the next big stage, which involves inking comic sketches.
About Inking Comic Books
Inking is a refining process that builds on the sketch that you made. At first, you might consider this as tracing since you are making the penciled edges more visible but this inking comic process involves so much more. Inking gives you a chance to make certain areas of the sketch stand out more and can double as a guide to coloring the rest of the highlights. The more defined comic book illustrations have lighting and depth and inking also gives you the opportunity to create that depth and perspective.
Preparing Yourself for Inking Comic Books
Unlike coloring, you won't really need many tools for the inking comic book process. Set up a clean and large workspace to get yourself comfortable because some precision will be needed. Every comic book inker should have India ink to work with. Also called black ink, this ink retains the color as soon as it is placed on the page since the ink is carbon-based. This ink is stored in a container so you won't be using markers or the like for inking. Instead, you will rely on inking instruments such as ink brushes and mechanical pens for greater position. Sharpies can also count as inking instruments as well as crow-quill pens. You can even be resourceful and use q-tips to get that nice smudge effect.
In fact, smudge and splatter effects are included when you start inking and are crucial for giving the sketch some texture. If you want some variations, you should get a sponge so you can create nice splatters or an older brush. Other useful items for drawing like rulers can come in handy as well especially if you are not steady in making straight lines. The same applies with other tracing tools like French curves and compasses. While precision is required for inking comic books, you do not necessarily have to be perfect. Making a small mistake won't mean that you have to make an entirely new sketch and start the inking comic process from the very beginning.
Some creative comic artists make use of colored pencils because they give them finer control over coloring. They are commonly used for tracing so you can predetermine which areas should not have any coloring. If you have erasers and white out at your disposal, you can quickly make the correction and proceed with your comic inking.
Getting Started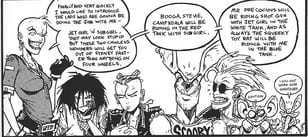 Since your jar of ink may have a lot of ink, it is best to conserve by placing just a little bit of ink in a smaller container or cap for easy dipping. Before working with the India ink, you must first dip your instrument in water. Have a paper towel ready because you are going to absorb any excess water. Once finished, dip your pen gently to get some ink and use the same paper towel to absorb the excess ink.
This is where the actual inking comic process begins and you can come off to a good start by focusing on the larger areas first. Sketches look pretty lifeless because of the areas that have a lot of white space. Focusing on those areas first really give you progress and guides you on what areas you should tackle next.
Take the opportunity to figure out where the light source is because this step will involve the necessary shading to give your subject a sense of perspective. To get a better grasp of the concept, it is best to try this out with a comic book character. The idea is to draw additional accents and lines on areas where the light source will hit so you can then determine what shading needs to be applied.
Other Notes
Inking comic books by hand surely has its rewards especially if you plan to do the entire comic book project by yourself. You can consider inking as a precursor to the actual comic book coloring where you will still need to have a steady hand when using the markers and other drawing instruments.
It only gets better from there once you finally move on to digital imaging of comic books. Since you know the basic concepts of inking and coloring, you can quickly make comic book creations much faster in digital form especially if you have the software and peripherals. It is best to use digital art as a guide for handwritten art because natural drawings can really let you express freely and inking comic processes simply make comics look more natural and appealing.
Recommended Books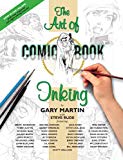 The Art Of Comic-Book Inking 2nd Edition by Gary Martin
This book is absolutely amazing. The artwork and techniques described in this book are priceless. These are the same techniques pros use in what you buy in the comic book stand. It's fairly easy to ink, and the author and his talented band of contributing artists prove this through their many examples and explanations on how they achieved their results. You will learn valuable techniques, starting with the basics, how to hold the pen or brush, line weight, and pen / brush control. Also, cross-hatching, dry-brushing, feathering your lines, etc… (these tend to be my favorites). You'll learn how to translate a penciled piece of artwork into a finished inked drawing primarily. You'll learn how to ink faces and facial features, as well as backgrounds and other objects. The author also clarifies any question you may have on the duties and tasks performed by the inker, as well as finding jobs as an inker. There is a lot more to be taught in this book, believe me.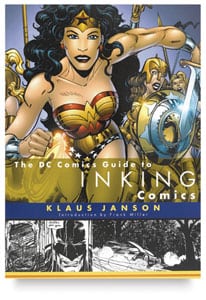 The Dc Comics Guide to Inking Comics by Klaus Janson & Frank Miller
If you have ever wanted to learn ALL about how to create stunning ink graphics (not only paper cartoons and comic art), then this book is for you. It teaches you tips and tricks that you can learn only from professionals in art colleges. A very extensive book for all illustrators and graphic artists. But wait, it also teaches you the principles of what I call "cinematic art composition" or how to convey your message to the book readers in portraying a specific text passage, etc. This can be your very own private-college-in-a-book thing. I highly recommend it!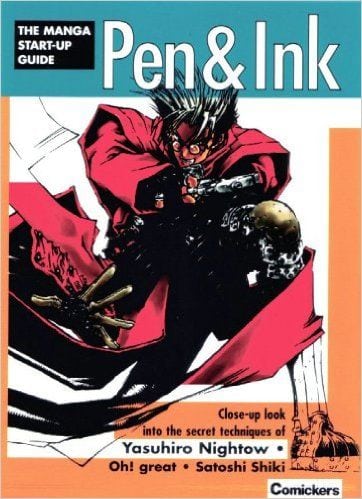 Pen & Ink by Yasuhiro Nightow, Oh-Great & Satoshi Shiki
This is an excellent instructional how to book not only for manga but for anything regarding pen and ink. It is jam packed with how to techniques, materials and supplies. must have for anyone interested in working with pen and ink!
Leave Some Feedback!
Average rating:
0 reviews